About GNU
Ganpat University as a well reputed State Private University established in 2005 through the State Legislative act no 19 of 2005, Government of Gujarat and recognized by the UGC under the section 2(f) of the UGC Act, 1956 having campus spread over more than 300 acres of land with world class infrastructure and more than 10,000 students on campus. The University offers Diplomas, Under Graduate, Post – Graduate and Research Programs under the Faculties of Engineering and Technology, Pharmacy, Management, Computer Applications, Sciences, Education, Humanities and Social Science and Human Potential Development. Ganpat University and the township of Ganpat Vidyanagar, a high-tech education campus is a joint initiatives; purely for philanthropy; of a large number of industrialists and technocrats, noble farmers and affluent businessmen; having a mission of "Social Upliftment through Education". The University has been among the few Universities in the State who could successfully implement industry-oriented education model with live collaborations with Industries to prepare relevant manpower for industries in the state and country as a whole. Elets – Promoter of Digital Learning Magazine in Association with UNESCO and Ministry of Minority Education, Government of India had conferred "World Education Summit Award – 2014" for Industry – Academia Category to the Ganpat University; out of more than 300 nominations. Though having located in a rural area; in a North Gujarat region, approximately 70 Kms from Ahmedabad; University has set up the exemplary example of "Uplifting the Society through Education" by developing world class social infrastructure with global vision.
Message from President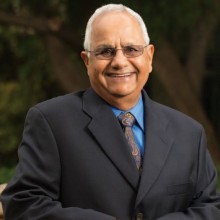 Shri Anilbhai Patel
"To achieve prosperity, any society or country will have to mainly rely on supreme quality of education. Hence, creating maximum opportunities to facilitate people with the best and advance education amenities is the cardinal responsibility of every government or social charitable organization. Excellent education is the only sure path to youth empowerment and to enable young minds to contribute in the overall growth of the nation. This is exemplified through lives of the great personalities like Maharshi Arvind, Dr. Abdul Kalam, Shri Narayan Murthy and several others. Education is the backbone and sure-cure to every burning issue of any nation.

The motto of Ganpat University is in line with the life philosophy of aforesaid great personalities- ensuring social welfare through education. While we, at Ganpat University, are on the verge of completing almost two decades in our mammoth task of shaping young minds through imparting quality, professional and technical education, our vision to scale newer heights is also getting clearer.

The scenario before two decades was altogether different. Neither were there any engineering-pharmacy institutes nor any management or computer institutes in the entire North Gujarat region. The talented minds of the region had to go to another states for availing this education. A group of enlightened minds, looking at the predicaments of students who were in desperate need of one institute that can cater to their educational needs, brought this education to an easy reach by starting various institutes under aegis of Mehsana District Education Foundation.

While these facts may seem quite satisfying, this is not the juncture where we intend to stop. It is indeed our earnest desire to outshine our own achievements in the field of education. We aspire to have a lion's share at least in the development of Gujarat state through education.
This ignites the spirit in us that even though the university has successfully achieved several of remarkable achievements but still the quest is not over and university will continue in its endeavor of achieving higher destinations and offering the best service to the nation and region.

It would be a matter of great pride for us if our students can contribute substantially in the social welfare through education attained at Ganpat University.

And we believe that this shall surely happen!

Shri. Anilbhai T. Patel"
Contact Info
Ganpat University Ganpat Vidyanagar, Mehsana-Gozaria Highway, PO - 384012, North Gujarat, INDIA